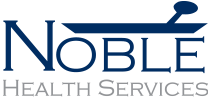 When you fill your specialty prescriptions with Kinney Drugs, you will receive the added benefit of being connected to our URAC-accredited specialty pharmacy, Noble Health Services.
As a customer of our specialty pharmacy, you will have access to:
Care Teams who will provide you with personalized information and guidance throughout your health and therapy management process. Your care team will also manage and simplify the refill process for you.
Clinical Management Programs with direct access to disease-trained pharmacists and nurses 24/7/365.
Free Ancillary Supplies such as sharps containers, syringes, alcohol swabs, and bandages with your order.
Benefits and Co-Pay Guidance to ensure you receive the lowest possible co-pay and out-of-pocket cost.
Advanced Shipping Logistics to ensure that your medication remains stable and secure in transit, and arrives on time, every time.
Fast Delivery with next day arrival. You can choose between in-store pickup at your local Kinney Drugs or delivery to your doorstep or another address of your choosing. We also offer same day delivery in some areas of Upstate New York.
Convenient Online Prescription Management is available on our highly secure site, noblehealthservices.com.
For more information or to transfer your prescriptions to SpecialtyPlus, speak with your Kinney Drugs pharmacist or call Noble Health Services at 888.843.2040.