Hearing Loss Services
Kinney Drugs is committed to providing the highest quality pharmacy services to our patients who have a hearing loss or who are deaf. To ensure you receive clear communication and excellent service, we offer free auxiliary aids and services at our pharmacy counter, such as assisted listening devices and video remote interpretation services.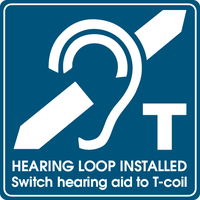 Hearing Loop
The hearing loop is a special type of sound system which provides a wireless signal that is picked up by hearing aids or cochlear implants when they are set to the "T" (telecoil) setting. This technology helps to reduce the surrounding noise and allows the person with the hearing aid or cochlear implant to hear more directly and more clearly. Hearing loop technology is available at the pharmacy counter in all Kinney Drugs.
The ability to use the hearing loop will depend upon the model of the hearing aid or cochlear implant processor you wear. To use the hearing loop, activate your telecoil (t-coil) while at the pharmacy counter. If you are new to using this technology, ask your audiologist or hearing instrument specialist if your hearing device has a t-coil, and if so, how to access that setting.
For patients who use devices without a telecoil, or those without hearing aids or cochlear implants, a portable headset receiver can be requested to access the hearing loop technology.
Video Remote Interpreting (VRI)
Our video remote interpreting service uses videoconferencing technology on a tablet to provide sign language interpreting services. This is done through a remote or off-site interpreter, in order to communicate with persons with whom there is a communication barrier. This service is available at any Kinney Drugs pharmacy upon request.
Please contact 315-451-2873 ext. 3150 or the Office of the Attorney General at 212-416-8250, or TDD 800-788-9898, if you feel that your needs are not being met and you want to file a complaint.